Bad Fast Hobbies: How It All Started
I grew up in Sloan, Iowa and first got started racing radio controlled cars at 16. I purchased my first hobby-grade RC car from Kay Bee Toys at the Southern Hills Mall. It was a Tamiya Grasshopper, and it came pre-built, which was pretty rare in those days. A year later, I purchased and built my first kit car, a Team Associated RC10. In early years cars were simpler; they were controlled by a mechanical speed controller and a stick radio. I enjoyed racing both my Grasshopper and RC10 in Omaha and Lincoln, NE. I raced there on a weekly basis, and I placed well in many of the races. I first started thinking about the Bad Fast Hobbies concept in 1988.
Building a Dynasty in Amarillo, TX with Outback Hobbies
After graduating from High School, my family moved to Amarillo, Texas. I missed racing during my free time like I did back in Iowa, and Amarillo lacked a place to race RC cars. To solve my desire to race, I started looking for an empty building to build a hobby store and a track. While looking at a building in Amarillo, the original name of the shop Outback Hobbies came to me. Conferring with a friend of mine about the building, we thought the track could be placed "out back." At that time though, I was a college student and did not have the funding to open a store and track. I reached out to the local banks to get a loan, but banks couldn't see my vision for a store and track, and unfortunately did not give me a loan. Without that needed funding, I temporally tabled this great dream of opening a hobby store and track, but never let the dream die. During the time in Amarillo, I continued to be involved in racing and was even sponsored by Traxxas, racing their TRX1 and TRX3 completion off-road buggy and Blue Eagle off-road truck.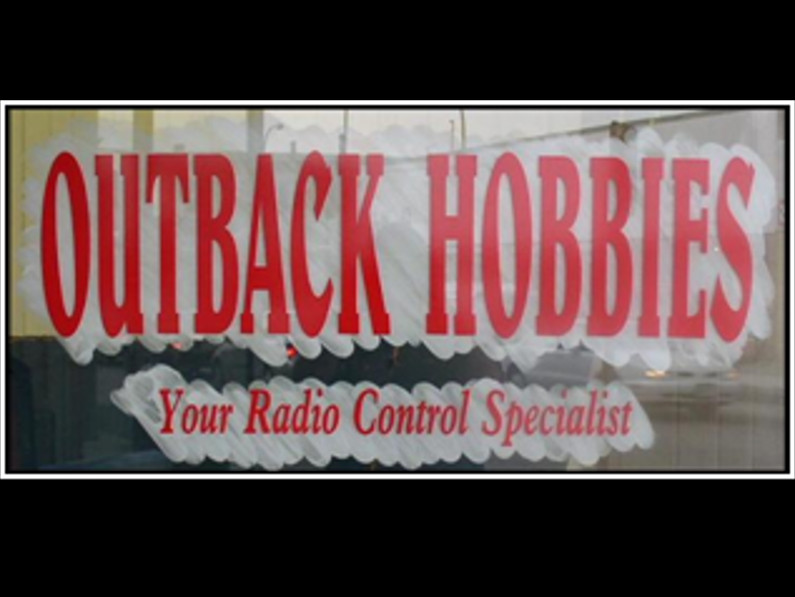 Moving Back to Sloan, IA with Outback Hobbies
In 1994, I moved back to Sloan, Iowa. At that time there was not much RC racing going on. I knew of a few races in Le Mars, Iowa at the fairgrounds, as well as the old Aksarben horse track in Omaha, Nebraska. Unfortunately, my racing adventures did not last very long, and I sold most of my racing collection.
Skipping ahead about ten years, I worked for a computer company in North Sioux City, and an opportunity to open a small hobby store inside another retail store in Sioux City, Iowa presented itself. I had the resources and knowledge, so I made a deal with the store owner to open inside his store. Harkening back to my time in Amarillo, I wanted to call it Outback Hobbies. It had a small carpet track in the back of the store, and I become the Track Director and held weekly Tuesday night and Saturday afternoon races. Outback Hobbies was open every night after I got off work from the computer job, as well as Saturdays. The business was growing, and things were looking good. Unfortunately, the owner of the store I was in didn't see a return on his investment of having Outback Hobbies share space inside his retail store – I was asked to vacate the property.
Outback Hobbies at KD Station in Sioux City, IA
I needed to look for a new location for a store in Sioux City. After searching for the perfect space, a new location inside the KD Station in Sioux City, Iowa presented itself. It was just an empty space though; there was lots of work to be done. Walls needed to be built, a subfloor for the carpet track needed to be done, and supplies needed to be purchased. I labored many long days and weekends to get the place ready to open. During the renovation, the KD Station had a transformer fire, and part of the building lost electricity, including the part that Outback Hobbies was to be located in! I worked diligently with the owner of the KD Station, and partial power was finally turned back on. We continued to renovate the location, but I began to get concerned that the property may never recover from the transformer fire.
Another Set Back at the KD Station
About this time, most of the area I was renovating received a lot of water damage from a leaky roof. The property owners of the KD Station worked with me and assured me that they would have it all rectified and all problems would be resolved. I discussed my concerns about the building being possibly red-tagged by the city for code violations. The property owners assure me that this is not going to happen, so I continued to renovate the area. On July 1, 2004, Grand opening day finally came, and Outback Hobbies opened its doors at the new location! I was so excited – I was finally going to own the hobby store I wanted since 1988.
Not so fast…. The property owners call a meeting that morning and inform the rest of the tenants and me that the city had red-tagged the building and everyone had to vacate the premises within 30 days. Devastated wasn't even enough to describe how I felt.
Bad Fast Hobbies in Sloan, IA
During the summer of 2006, I finally decided to finalize my dream of opening an RC store. Growing up in Sloan IA, I knew the area, so I began to renovate a building in downtown Sloan located at 410 Evans St. This turned out to be a very long tedious process. I had to gut the entire inside of the space, put a new roof on the building, and remove concrete from the rear of the building. I added a new concrete floor and framed interior walls. I also added a new front picture window to allow my space to be seen from the street. After a few long years of building, finally in 2012, electric was installed! Fast forward to 2015; I installed the heating and cooling, light fixtures and the finishing touches.
Finally, on 02/15/2015 Bad Fast Hobbies opened its doors! To get a refresh from my previous attempts, I decided it was time for a name change. My favorite saying is "Bad Fast," so I took that saying and added hobbies to the end.
BAD FAST HOBBIES is born!
Come Check Us Out in Sloan IA. Bad Fast Hobbies, Your Radio Control Specialist
Kirk Wiggs – Owner Bad Fast Hobbies
Bad Fast Hobbies Sioux City IA – Your RC Source
Contact Bad Fast Hobbies Today
Bad Fast Hobbies carries the top brands of hobby grade RC vehicles. We also carry the latest parts and upgrades for your RC vehicles. We give our customers a positive shopping experience, offer competitive pricing and quality of service is our top priority. Contact us today for all of your RC needs.  We Know RC!